Ecclesiasticus 30:15
Health and good estate of body are above all gold, and a strong body above infinite wealth.
One of the top five Questions asked: "What kind of clothes should I wear to work out in?"
The most High Laws should come to mind first.
Deuteronomy 22:5
The woman shall not wear that which pertaineth unto a man, neither shall a man put on a woman's garment: for all that do so are abomination unto the LORD thy God.
Women DO NOT WEAR PANTS therefore society "normal" work-out clothes is against the laws.
I remember being new to keeping the most High laws and at that time wearing a skirt to workout in was the weirdest feeling ever, HOWEVER…. I did!! because I BELIEVE THE BIBLE AS IT IS WRITTEN.
WHAT TYPE OF SKIRT?
Your skirt should be comfortable and fit your workout needs.

A nice pair of tights under your work-out clothes. (personal suggestion)

If you are working-out in the privacy of your own home then the skirt could be knee-length However if you are working out in a public place make sure your length is calf or below.
The following photos are photos I took when I was 7 months pregnant (2015) a bi-weekly walk on Bear Mountain 800 steps (one way) so 1600 total. The old pedometer registered 6 miles in all, but the quads and glutes got a great workout on the climb! "NOTICE THE WORKOUT APPAREL"

Numbers 11:38-40
Speak unto the children of Israel, and bid them that they make them fringes in the borders of their garments throughout their generations, and that they put upon the fringe of the borders a ribband of blue:
39 And it shall be unto you for a fringe, that ye may look upon it, and remember all the commandments of the LORD, and do them; and that ye seek not after your own heart and your own eyes, after which ye use to go a whoring:
40 That ye may remember, and do all my commandments, and be holy unto your God.
1 Timothy 2:9
In like manner also, that women adorn themselves in modest apparel,…………………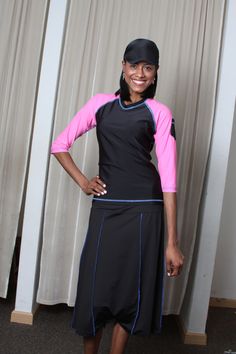 3 John 1:2
Beloved, I wish above all things that thou mayest prosper and be in health, even as thy soul prospereth.
Shalom.
Ioanna
(HOUSE OF OFC. BARNABUS)